Posts
https://digitalinclusion.eu/wp-content/uploads/2021/01/αρχείο-λήψης.jpeg
166
303
Anna Tsiboukli
http://digitalinclusion.eu/wp-content/uploads/2020/03/Medici-Community-LOGO-300x169.png
Anna Tsiboukli
2021-01-18 12:52:24
2021-01-18 12:52:27
Youth Inequalities in Digital interactions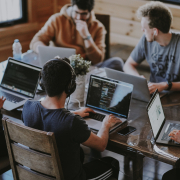 Many of the existing youth digital inclusion programmes primarily focus on functional digital literacy (e.g., how to access information online), and not critical digital literacy (e.g., how to critically analyse the information online).
In this article based on a research conducted in Scotland, Alicja Pawluczuk (United Nations University Institute, Macau) suggests that digital inclusion should be viewed not just as a strategy for employment and education, but as a set of larger, systematic, continually evolving, and critical youth engagement practice to enable young people's critical digital abilities to continually review and respond to their positions within the power structures of the data society.
The Author suggests digital inclusion provision for young people should consider three main issues: digital inclusion processes, young people's needs, and young people's human rights in the digital age.
https://digitalinclusion.eu/wp-content/uploads/2020/06/annie-spratt-QckxruozjRg-unsplash.jpg
3335
5000
Francesca Di Concetto
http://digitalinclusion.eu/wp-content/uploads/2020/03/Medici-Community-LOGO-300x169.png
Francesca Di Concetto
2020-06-05 09:58:38
2020-06-12 10:17:24
Digital youth inclusion and the big data divide: examining the Scottish perspective
This project is co-funded by the European Commission. The contents of this publication are the sole responsibility of the partnership and do not necessarily reflect the opinion of the European Union.